Get The App
Using advanced tech that syncs with your phone using our App, StreamLabs is always on and always available.
Receive instant alerts to your iOS or Android device if a small or large water leak is detected anywhere in your house. With the StreamLabs Control, you can immediately stop water leaks with its remote shut-off function.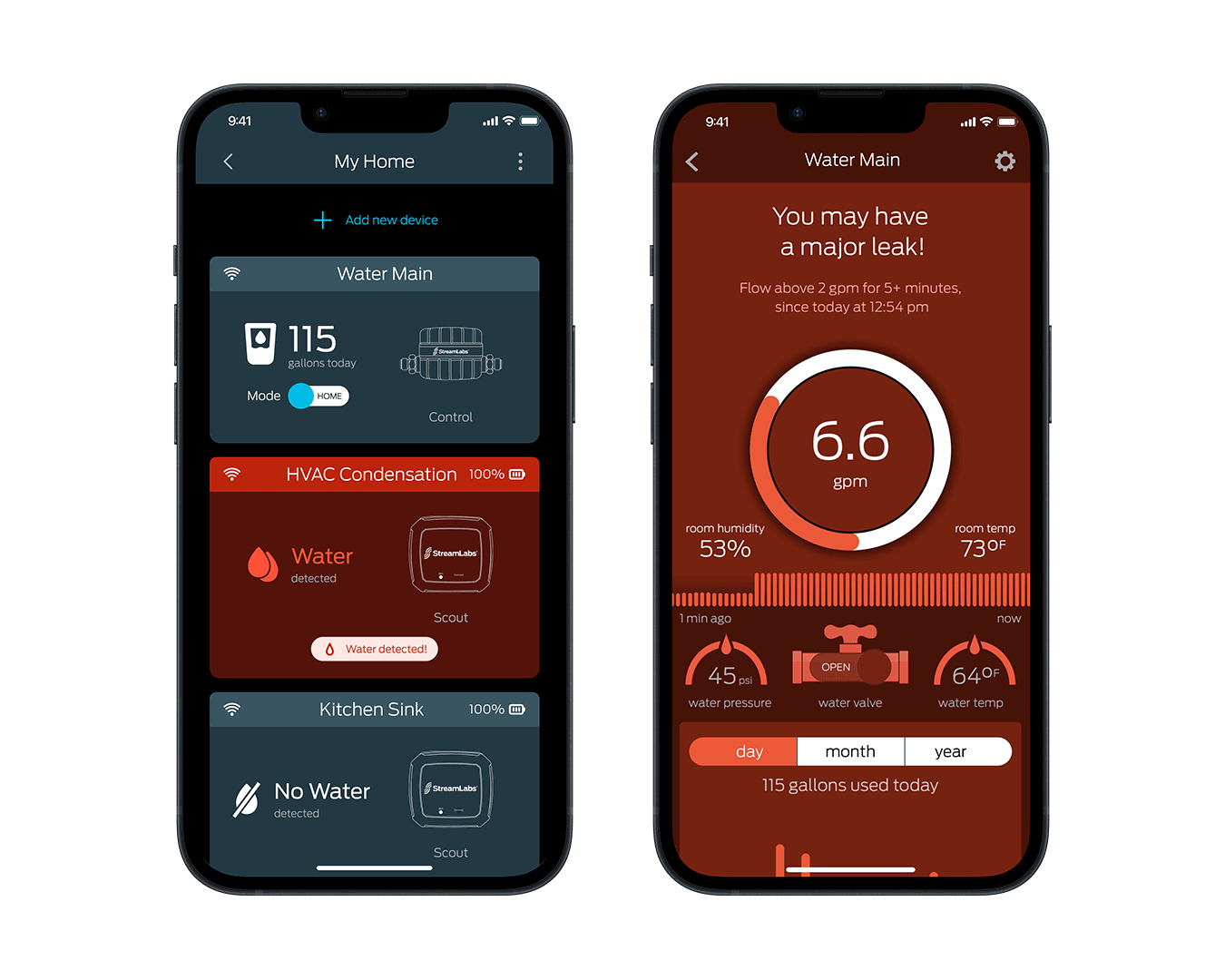 Smart tech monitors in real time from anywhere
Defend Your Home Against Water Damage Anytime, Anywhere
To receive water usage data and alerts through your subscription, you'll need the free StreamLabs app for iOS or Android.
From day 1, you can:
Customize leak detection alerts.
Automatically and remotely shut off the water (Control device only).
Track your live water flow and view historical usage charts.
Set your StreamLabs Control to Home or Away leak detection mode.
Plan

Standard

StreamPlus™

Price

Free

$5.99/month or $59/year

Locations

Monitor multiple locations with one StreamLabs account.

Up to 2
Up to 5
Notifications

Specify how you want to receive alerts from your device.

Push
Push, Email & Texts
Smart Alerts® Learning Mode

StreamLabs can learn your home's typical water usage to alert you to unusual flow.

✔

✔

Drip Detect® Alerts

Detect behind-the-wall drips before they cause mold and significant property damage (for the Control device only).

✔

✔

Water Usage Charts

See your home's water usage hourly for the current day, daily for the current month and monthly for the current year.

✔

✔

Compatible Integrations

Google Assistant & Amazon Alexa

✔

✔

Extended Historical View

Look back at how much water your household used by the hour, day, month or year (up to 2 years).

✔

Extended Alert History

Review past alerts by date, type, duration and cause (water, pressure, humidity or temperature).

Last 3 Alerts
Last 20 Alerts
Warranty
1 year
1 year
Select
Select